We are Award Winners!
Woweee! We've finally recovered after another great Umbraco CodeGarden event. I say we, I mean Matt of course. Each year it gets bigger and better, with more super cool people attending, making the Umbraco community an even richer and more diverse congregation. I'm particularly proud of the recognition Matt got in the keynote for being so friendly to new members of the community, with some lovely stories about how he made their journey into Umbraco so welcoming. He doesn't talk a lot, but when he does, he makes it count :)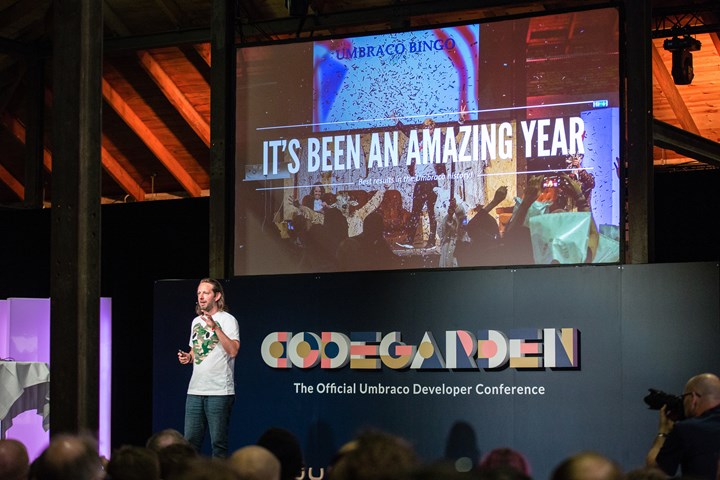 Codegarden 2018 Keynote. Photo by Umbraco HQ
This year was rather entertaining for me, watching at home, via the wonderful medium of Twitter. Not only did HQ do a stand-up job of updating and documenting the event, so many of the attendees were ready with their cameras and funny captions, letting the rest of us at home see what was going down (although it was eerily quiet during bingo :D). I really must attend a CodeGarden myself one year. I have tagged along for a long weekend before, although that was 6 years ago, but I would really love to experience the whole event for myself.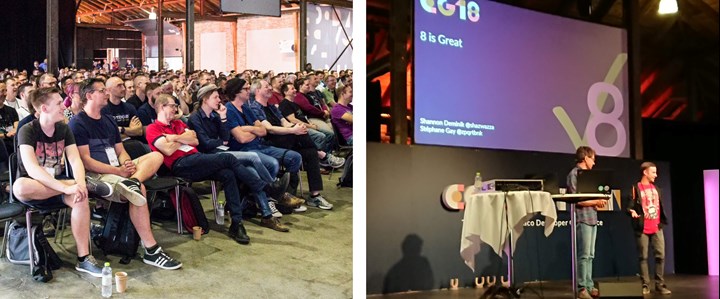 Codegarden 2018. Photo by Umbraco HQ
Now, as an avid user of Umbraco for last the 8 years and an ex-HQ employee, Matt has been fortunate to attend CodeGarden for each of those years, often as a part of the pre-CodeGarden retreat posse, with the exception of that one time we had to go to our best friend's wedding in Greece. He even had me look-up the cost of a private jet so he didn't have to miss out, but alas it wasn't possible. This has given him great insight into Umbraco and a chance to help shape the world's friendliest CMS, as well as gaining a great circle of Umbraco friends.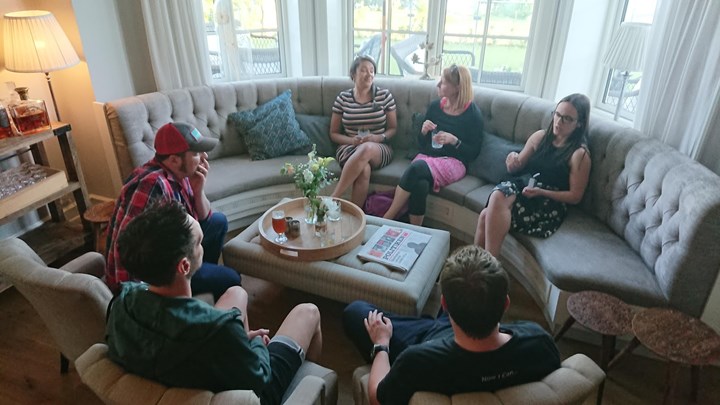 Retreat members holding a discussion.
Awards
This year was especially memorable for Matt and our company Outfield Digital. Firstly, Matt was given renewed MVP status for 2018, having previously won in 2011, 2015, 2016 and 2017, for his continued contribution to Umbraco package development. This meant a great deal to us as Matt works hard to create great, usable packages for the benefit of his fellow Umbraco developers and clients, alongside his friend Lee Kelleher, the other half to their UMCO collaboration. Donations for which are gratefully accepted via their Patreon page by the way ;)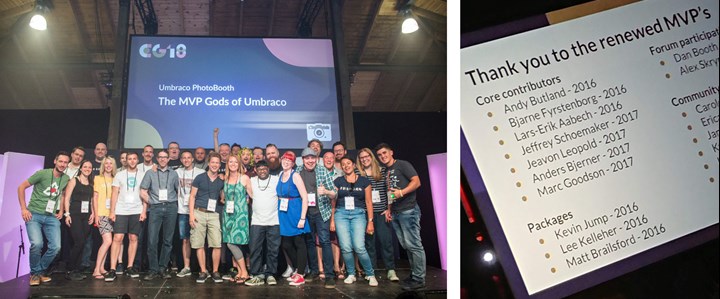 Matt and the rest of the MVPs. Photo by Umbraco HQ
Secondly, as further recognition for Matt's package development skills, we won the Umbraco Best Package Award for Fluidity! For those of you who are not so familiar, Fluidity is a rapid Umbraco user interface builder for custom data sources configured via a fluent API. Its key features are that it is configurable via a simple, fluent based API, works with any third party data source, has a consistent Umbraco look and feel, and uses Umbraco property editors and Multi-section support for logical editor grouping. You can find out more about Fluidity here, with links to Our Umbraco, NuGet, GitHub and documentation.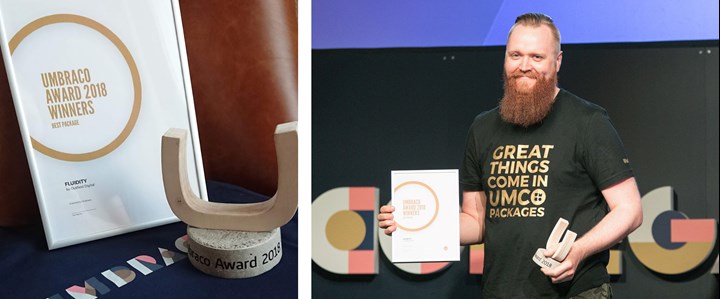 Matt accepting his award. Photo by Umbraco HQ
So, after a jam-packed retreat and CodeGarden, Matt has come back to the office full of zest and enthusiasm for more Umbraco goodness, package ideas and a long list of doodle avatar requests making use of his newly honed drawing skills! Speaking of which, checkout his super detailed CG summary doodle below, and also keep an eye out for a special collaboration with the wonderful people over at Skrift, in their next edition.