Vendr is Here!
Vendr is finally here! Your new Umbraco 8+ eCommerce solution is ready and waiting to be implemented in all your upcoming eCommerce projects.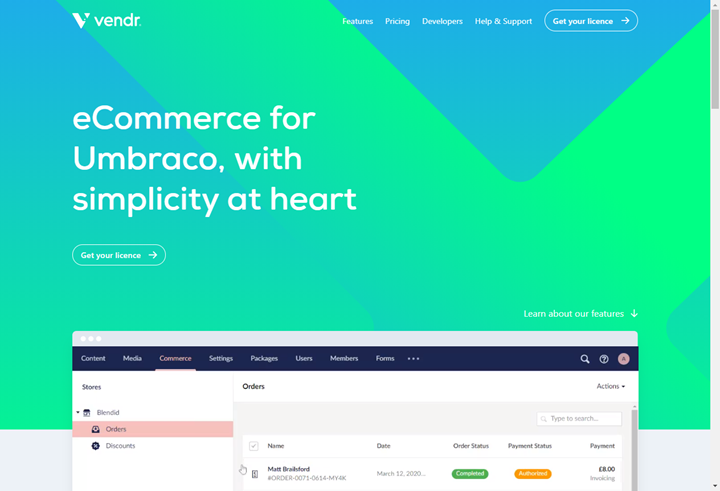 TL;DR
Click the below button to check out our new Vendr website, download the demo store, see the full features list and purchase a licence.

Over the last two years we have embarked on what has been, for us, an epic journey. What started out as a casual conversation at Codegarden 18 with Anders, about the team at Tea Solution's future plans for Tea Commerce, soon turned into our next big opportunity.
From that moment, ideas were sparked and wheels started to turn, to make the opportunity before us a reality. We have always had a passion for Umbraco and have based our livelihood on it, developing websites for our clients using only Umbraco and creating numerous open source packages for our fellow Umbraco developers. Not to mention our creation and hosting of CODECABIN, the Umbraco developer weekend, together with our co-founder/host Lee Kelleher.
From May through to December 2018, we extended our Umbraco passion, traversing unknown territories to negotiate the acquisition of Tea Commerce; agreeing contracts, valuations and setting up financing to bring it all to fruition.
This first milestone of announcing ourselves as the new owners of Tea Commerce was incredibly exciting. We had kept it pretty much under wraps, bar a few conversations here and there. We hoped our announcement would be well received and we were blown away by the amazing comments and excitement that the well-known eCommerce solution was to have a fresh set of eyes on it and a helping hand to transition for the upcoming Umbraco 8 launch.
We made some initial updates and bug fixes to Tea Commerce, while working out our plan for its future and when to begin work to create a v8 compatible version. However we were thrown a bit of a curve ball in February 2018. Umbraco announced v8 was ready and launched it way sooner than any of us had anticipated. Conversations we'd had at various events prior to this point had all given the impression that v8 was way off from being ready for any imminent launch. In fact, even though there were no dates committed to, our probe for a rough estimate based on our estimations of a 2019 Q3/Q4 v8 launch, were loosely confirmed.
However, what felt like a negative impact, actually turned to our advantage. Sure, people were asking when a v8 ready Tea Commerce version was going be available and there was a lot of chatter on Twitter about v8, making it seem like the initial v8 uptake was massive. In actual fact, it was a slower progression (Twitter is often a bit of a bubble with no real metrics to work from), with Tea Commerce sales, that only works for v7 and older, coming in just as we had forecast.
'Umbraco 8 was being put through its paces. Issues raised, bugs fixed, lots of updates and a whole host of further improvements, all of which worked in our favour'
Our timeline for development of an Umbraco 8 eCommerce solution wasn't due to begin until June 2019, when we had delivered our client project commitments. But all the while we were working on a number of other things for the upcoming solution, such as planning the product's infrastructure changes, new approaches to system architecture and a new branding vision. Not to mention the costly minefield that is Trademarking. So while all of this was happening, client work and eCommerce solution planning, Umbraco 8 was being put through its paces. Issues raised, bugs fixed, lots of updates and a whole host of further improvements, all of which worked in our favour, again turning what initially felt like a negative, into a positive. It allowed us to see how it all worked before committing to code. We could take advantage of some the first big updates without having to refactor our code, as we hadn't written any yet.
'A big H5YR must go to Lars-Erik Aabech!'
Summer 2019 came and we could finally get our teeth into creating our new product. With so much work to do, it did feel a little overwhelming. But taking bite size chunks, breaking things down and having some great contacts to sense check our approaches, made the journey to what we have now a much more manageable process, with an interesting learning curve. A big H5YR must go to Lars-Erik Aabech! His time, patience, and let's face it, super brain, were a real help in guiding us through some of our key decisions, such as the use of pipelines. Thank you, Lars-Erik!
For some time things went quiet from us. Developing an eCommerce solution takes a lot of concentration, dedication and time. Eventually, after jumping over a number of hurdles, getting to grips with some key decisions over architecture choices, we felt we'd come to a point where things were really starting to come together.
Shortly before the November 2019 Umbraco UK Festival, we wrote a blog post outlining our vision for the product we had been so busy developing, along with our new branding. We always thought we would rebrand at some point and that it would likely be for launch of the v8 compatible version of Tea Commerce, however it soon became clear with the number of breaking changes from Umbraco 8 and different approaches to some key features, we needed to create a standalone v8 solution.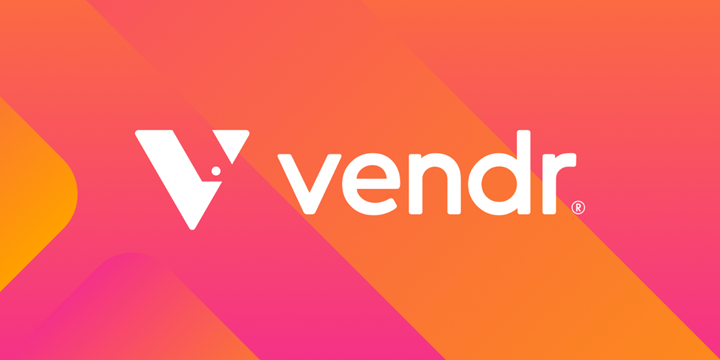 As such, Vendr was born. Taking the Latin word 'vendere' meaning 'to sell', we have adapted it for our new name Vendr. Our reasoning behind the rebrand was to differentiate the new product from Tea Commerce, not only since it has many changes from the current product, but also as a fresh start under our, Outfield Digital's wing.
We're also keen to convey our commitment to Vendr in terms of longevity, passion and most importantly, quality. With this in mind we thought it only proper to ensure the branding reflected that vision for our new solution and its future.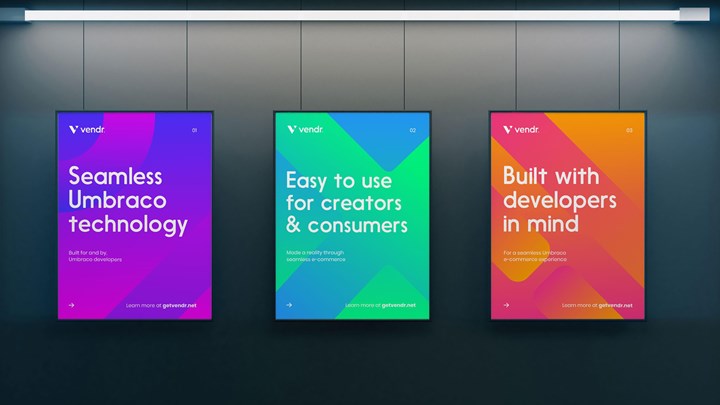 Now, Tea Commerce is still around, available to purchase for v7 site development, if that's what you and your clients need to use. And it will of course be maintained and supported, in line with Umbraco's plan for support of v7.
Back to the Umbraco UK Festival. This was our first event where we could fully showcase our ethos for the product, to create simple eCommerce, made for Umbraco. To inform the Umbraco community about key decisions we have made about which development approach we have taken and how the Vendr back office UI is beautifully in line with the Umbraco UI for a consistent developer and content editor experience. The feedback was wonderful. So many developers and agencies approaching us to discuss their eCommerce requirements and requests for early access to start testing and planning their upcoming client projects. It was such a boost to hear that feedback and the excitement from so many, after what felt like an age with our heads down working on the product.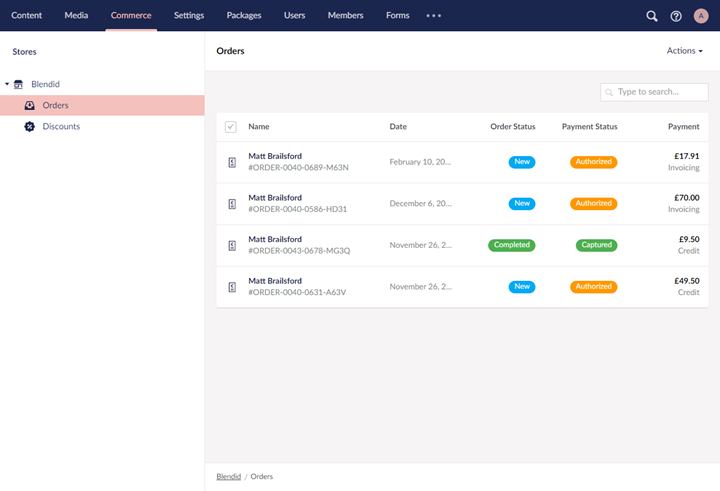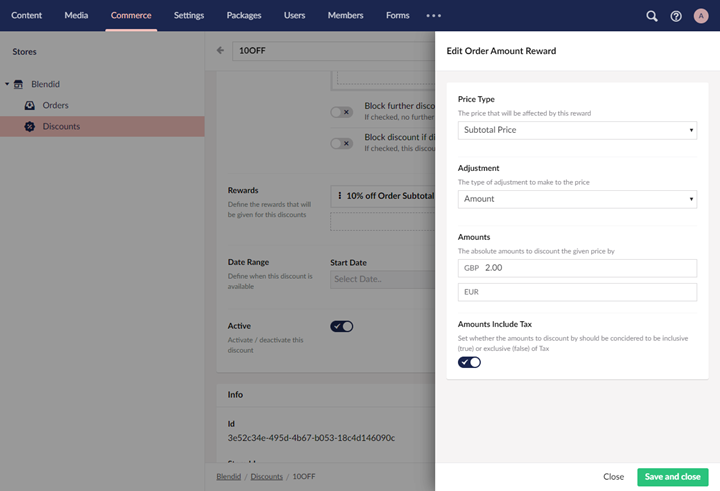 Just before Christmas 2019 we gave out a little gift. A preview of Vendr and its workings, in the form of our demo store, Blendid, a web shop example of a tea retailer, which we think is a nice, nostalgic hat tip to Tea Commerce. The store provides a fully configured basic web-store setup using Vendr on Umbraco 8.2, listing a variety of teas from multiple brands and displaying them in categories. Where products have multiple pricing options, variant nodes are used to provide buying options for those particular product choices. The site also showcases a basic shopping cart configuration with cart management features via the Vendr API as well as a checkout flow following all the main steps required for a Vendr order entity.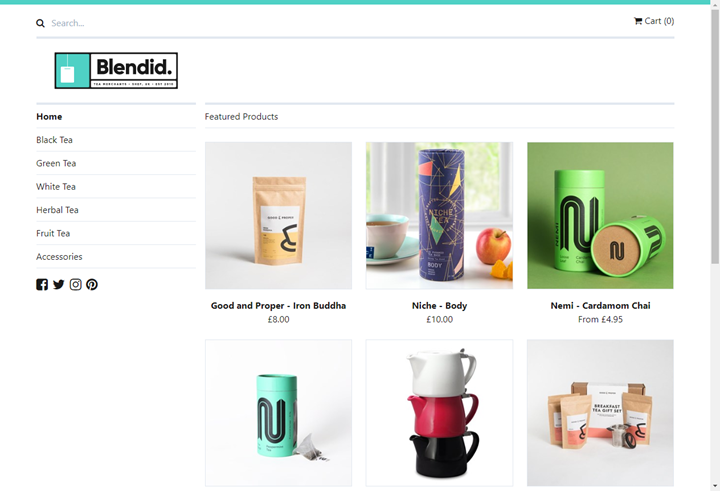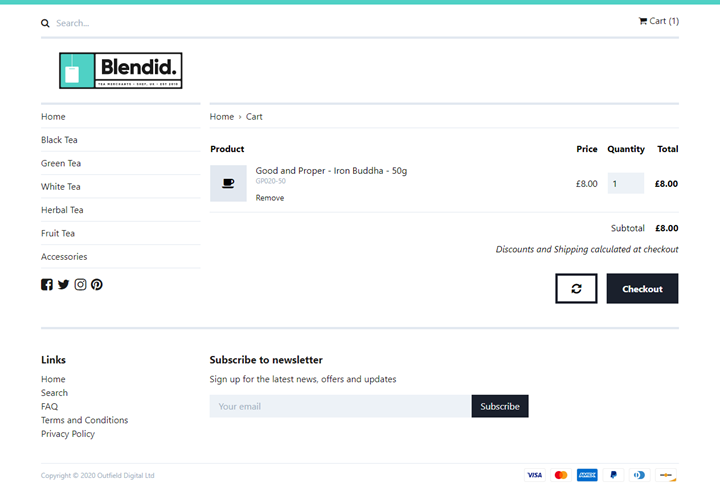 'A key player in raising these issues has been the ever helpful Bjarne Fyrstenborg. Massive thank you, Bjarne, H5YR!'
At this point we had a good handful of people and a number of agencies testing Vendr with early access, keen to use Umbraco 8 for their client's projects and enthused to use our simple and clean eCommerce solution, with added Umbraco goodness. Their feedback, questions and bug raising has been invaluable. It's seen us fix 33 items already and the Vendr v1.0 release is much more solid because of it. A key player in raising these issues has been the ever helpful Bjarne Fyrstenborg. Massive thank you, Bjarne, H5YR!
At the beginning of March 2019, we attended Umbraco Spark in Bristol, UK. There Matt (Brailsford) presented a talk on 'Adding eCommerce to Umbraco with Vendr'. This followed the story of Clive, a furniture maker looking to have a website developed to showcase his craft, later wishing to add eCommerce functionality to sell his products. Matt showed how eCommerce can be retro-fitted to an existing Umbraco 8 site using Vendr, taking some simple steps to achieve this. He also gave a glimpse of our upcoming Vendr package, a 'drop-in' checkout page, for a clean and simple, user friendly checkout experience. The response to this was very positive.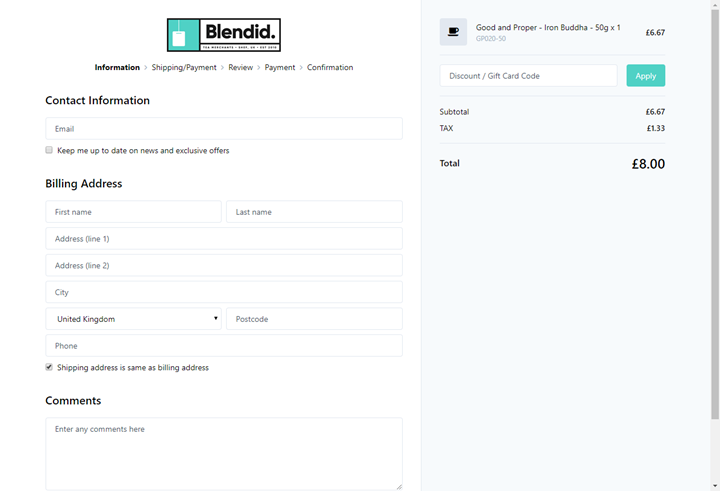 We've also had a lot of conversations with agency teams, eager to explore other eCommerce options available to them, citing Vendr as their new choice, offering to partner with us to help support the eco-system that commercial products and open source software require, in order for all to prosper. It has been really lovely to know that the Umbraco community spirit, which we love being a part of, is there and ready to support us to help bring our vision to life.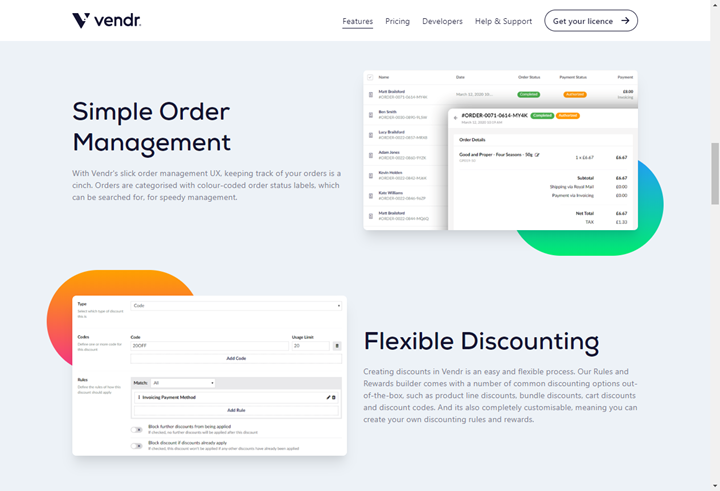 Fast forward to today and Vendr is here! The v1.0 release is out and ready to be implemented into your eCommerce projects. Our new website is live with more information about the technical aspects of Vendr, a full features list, pricing and of course the ability to buy your Vendr licences. From the website you can access the demo store if you haven't had chance to take it for a spin. You'll also find access to our documentation site, the first port of call to find out more about implementing Vendr. Along with FAQs and information about how to get support if you need assistance.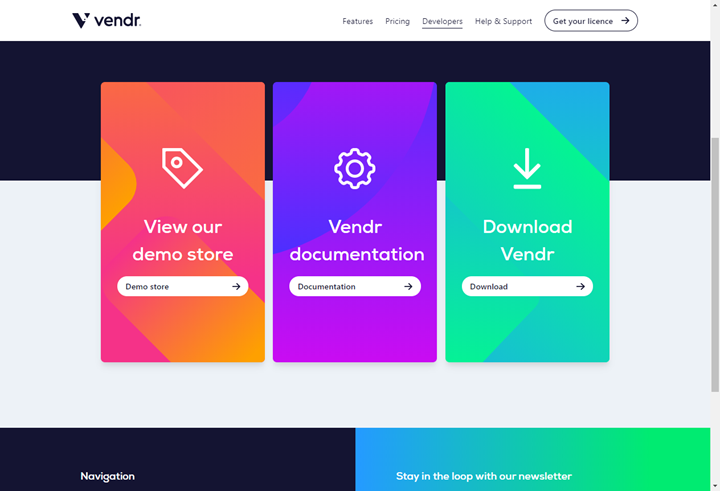 So with two years of planning, countless emails, numerous Slack chats, a rebrand and over 2000 dev hours, Vendr, eCommerce for Umbraco 8, with simplicity at heart, is here. We're incredibly proud of the work we've done to get it to this stage. We really hope you love it and can see the thought, dedication and quality we have put into Vendr. We're really looking forward to hearing your feedback and making further improvements to the solution. We have lots of ideas! Oh and we're also looking forward to taking a big nap!

Something we feel we should address:
Over the last few months and in particular the last four weeks, the world has and is still being shook by the Corona-virus and its impact on our health, the health of loved ones, society, the systems that serve us, the economy, businesses, jobs and our daily lives. We are of course very mindful of the situation we all find ourselves in.
We spent a great deal of time wondering if launching Vendr as planned was morally the right thing to do, as we didn't want to cause any upset by potentially coming across as insensitive at this time. However, after reaching out to our Umbraco friends the advice to was to carry on, as Vendr is a positive thing, good news in our Umbraco community and a welcome distraction at this time, as well as being needed to deliver client projects already in development with Vendr or waiting to get started. So we decided to release, as planned. We hope you agree that it's the right thing to do and understand our reasoning.